Well, it's been a while since I've put up a list of recent recommended reading, so here goes:
If you want to read excellent fiction about dark and difficult topics, might I recommend…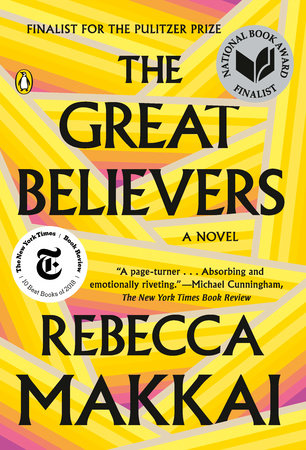 The Great Believers, by Rebecca Makkai
Devastating and necessary, Makkai's novel is largely centered around the mid-80s AIDS crisis in Chicago's Boystown community, and the generational emotional fallout experienced by its survivors. "They meant well, all of them. How could she explain that this city was a graveyard? That they were walking every day through streets where there had been a holocaust, a mass murder of neglect and antipathy, that when they stepped through a pocket of cold air, didn't they understand it was a ghost, it was a boy the world had spat out?"
Want more? Check out Larry Kramer's seminal play A Normal Heart and the graphic novel Taking Turns: Stories from HIV/AIDS Care by MaryKay Czerwiec.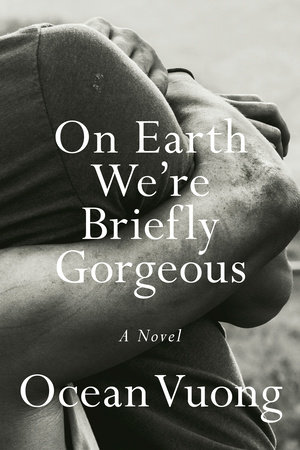 On Earth We're Briefly Gorgeous, by Ocean Vuong
Any blurb you'll read of this book will undoubtedly contain words like stunning, luminous, and lyrical. Vuong is an ethereal poet, and his tender and shattering debut novel is a coming of age story that traces the lingering violence of war, displacement, rising sexuality, and inherited trauma. Every sentence is a poem. "Because the sunset, like survival, exists only on the verge of its own disappearing. To be gorgeous, you must first be seen, but to be seen allows you to be hunted."
The Leavers, by Lisa Ko
Undocumented immigrants, modern indentured servitude at nail salons, separated children, adoption, race relations, family secrets, ICE internment camps, social justice, cultural disconnect, the legacy of loss . . . this is a very timely story. "In the city, he had been just another kid. He had never known how exhausting it was to be conspicuous."
There, There, by Tommy Orange
Braided stories follow a host of urban Indians as they gather for Oakland's big annual powwow. Questions of identity, of purpose, of possibility and memory ring through the minds of Orange's carefully rendered characters in this Pulitzer finalist. "We are the memories we don't remember. We know the sound of the freeway better than we do rivers." Read it.
The Hate U Give, by Angie Thomas
Sixteen-year-old Starr Carter is already straddling the two worlds of her mostly-white private school and mostly poor black neighborhood the night she watches a police officer shoot and kill her friend during a traffic stop. Inspired by Black Lives Matter, Thomas's debut novel asks: "What's the point of having a voice if you're gonna be silent in those moments you shouldn't be?"
The Broken Earth Trilogy, by JK Nemisin
Want your social justice in a geologically unstable dystopian society? I highly recommend Nemisin's visionary, page-turning three-time Hugo Award-winning series. "They're afraid because we exist, she says. There's nothing we did to provoke their fear, other than exist. There's nothing we can do to earn their approval, except stop existing – so we can either die like they want, or laugh at their cowardice and go on with our lives."
Fall Back Down When I Die, by Joe Wilkins
Set in eastern Montana and featuring anti-wolf militia groups, unlucky game wardens, destitute ranchers, and exasperated teachers, this novel struck close to home. Another tense and electric read for a divided country, Wilkins gives his hardscrabble cast of disparate characters a level of depth and understanding many of us fail to reach in our own lives.
If you like this, read Joe's equally powerful memoir The Mountains and the Fathers, set in the same Bull Mountains.
The Mars Room, by Rachel Kushner
To be poor, female, and incarcerated in America.
"All the talk of regret. They make you form your life around one thing, the thing you did, and you have to grow yourself from what cannot be undone: they want you to make something from nothing. They make you hate them and yourself. They make it seem that they are the world, and you've betrayed it, them, but the world is so much bigger." 
Here to learn, bear witness, or ponder ethics, tyranny, and the souls of animals with some legit nonfiction. . . ?
The Tiger, by John Vaillant
This book had been on my radar for a few years, and wow, it blew me away. Follow a critically endangered, insanely powerful, man-eating Amur tiger and the people looking to protect, poach, or co-exist with it through Russia's epic Tiaga landscape. Brilliantly told. "Nothing exists now but the tiger, filling his field of vision like a bad accident, like the end of the world: a pair of blazing yellow lanterns over a temple door framed with ivory columns." 
Voices from Chernobyl, by Svetlana Alexievich
An oral history told by the people who were there.  Nobel Prize-winning journalist Alexievich compiles pages and pages of criminally devastating accounts of the aftermath following the world's worst nuclear disaster and the Soviet government's secrecy and deadly demands. "No one had taught us how to be free. We had only ever been taught how to die for freedom." 

Nothing to Envy, by Barbara Demick
Speaking of oppressive regimes, incredible journalism, and nonfiction that reads like a novel, Demick's account of North Korea as told in part through its defectors is a fascinating, infuriating, and cautionary read. "If North Koreans paused to contemplate the obvious inconsistencies and lies in what they were told, they would find themselves in a dangerous place. They didn't have a choice. They couldn't flee their country, depose their leadership, speak out, or protest. In order to fit in, the average citizen had to discipline himself not to think too much."
Read also: The Orphan Master's Son, by Adam Johnson for a fictionalized account of these stories.
Soul of an Octopus, by Sy Montgomery
Enter the octopus's world as Montgomery deep dives (literally and figuratively) into a wealth of animal behavior, ecology, and hands-on friendship with captive and wild cephalopods and the humans who study them. "A lion is a mammal like us; an octopus is put together completely differently, with three hearts, a brain that wraps around its throat, and a covering of slime instead of hair. Even their blood is a different color from ours; it's blue, because copper, not iron, carries its oxygen." 
Eating Animals, by Jonathan Safran Foer
I've been a vegetarian for twenty-five years, but if I wasn't, this book would have surely converted me. It will make you feel sick, but don't look away. 
"Perhaps in the back of our minds we already understand, without all the science I've discussed, that something terribly wrong is happening. Our sustenance now comes from misery. We know that if someone offers to show us a film on how our meat is produced, it will be a horror film. We perhaps know more than we care to admit, keeping it down in the dark places of our memory– disavowed. When we eat factory-farmed meat we live, literally, on tortured flesh. Increasingly, that tortured flesh is becoming our own."
Side note: Check out Foer's fiction, too.
Or maybe you're really looking to have more of a conversation. . . ?
Good Talk, by Mira Jacob
Jacob's half-Indian, half-Jewish six-year-old son has a lot of questions. An early obsession with Michael Jackson leads to questions about race ("Is he black or white?") that continue through rising tensions leading up to the 2016 election. As these conversations continue, Jacob recounts her own history as it relates to race, belonging and love. I'll be gifting this intimate, hilarious, and harrowing graphic memoir to a lot of friends this year.
The Book of Delights, by Ross Gay
Ross Gay can do no wrong. His poetry collection Catalog of Unabashed Gratitude is one of my all-time favorite books. Here he continues his exuberant praise for this mutilated world in a series of essayettes that each chronicle the simple or complicated joy of a specific delight. From watching peacocks to loitering to eating fruit off the tree or slathering on the coconut oil, Gay takes the time to be present and give thanks for what moves him. This book is good medicine.
Go Ahead in the Rain, by Hanif Abdurraqib
The music of A Tribe Called Quest provided a large portion of my personal soundtrack through high school and college. Fans of 90's hip hop will love this book, but Abdurraqib's insight, memories, and observations should appeal to many outside of that base as well. He's a poet, an elegist, and a critic with a gift for writing about the things he loves with fierce and tender clarity.
Intrigued? Check out his previous stellar essay collection They Can't Kill Us Until They Kill Us for more musing on music, culture, and life.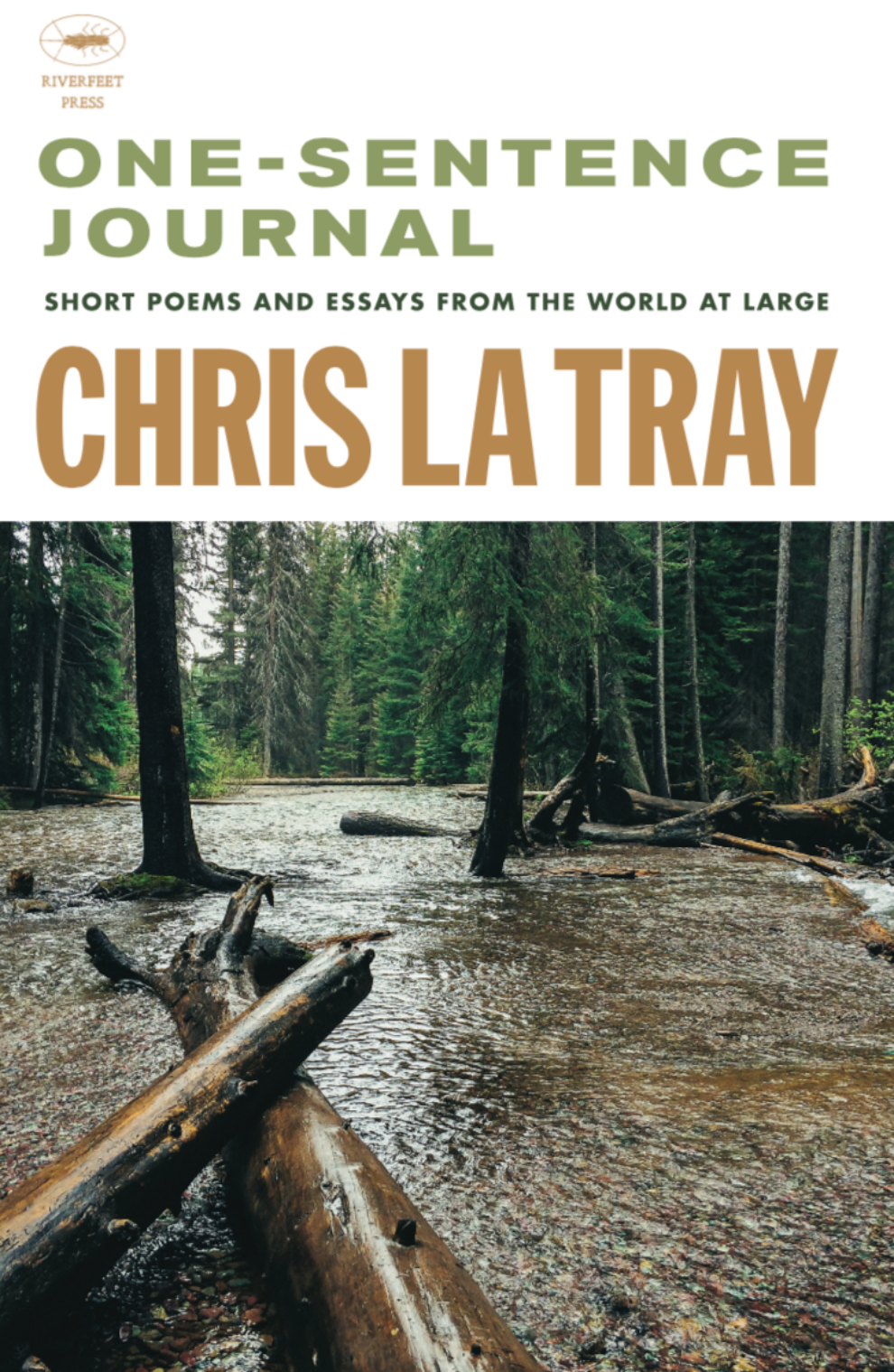 One-Sentence Journal, by Chris La Tray
Here in Montana, I've been running into Chris a lot this past year — first at his book store, then at writing retreats and readings, and most recently at the Montana Book Award ceremony where this little collection won the prize. I should tell you that his prize was a badass, hand-forged custom knife, because . . . Montana. Journal is a series of daily thoughts, observations, and revelations both ordinary and profound.
Desert Cabal, by Amy Irvine
Join in on Irvine's all-night desert gravesite conversation with the ghost of iconic wilderness advocate Edward Abbey. While she'll always admire the man and his influence over her own desert-love, she's not afraid to challenge him on his solitary narrative and exclusionism, especially in the context of the Me Too movement. I'd share a glass of whiskey and a seat on the sand with Amy any day.
. . . Memoir?
Crazy Brave, by Joy Harjo
Harjo was just named our National Poet Laureate, but she's been kicking ass and dropping wisdom for decades. Read her moving memoir about growing up in Oklahoma, escaping an abusive home, and finding the art that would sustain her. "In the end, we must each tend to our own gulfs of sadness, though others can assist us with kindness, food, good words, and music." 
Heavy, by Kiese Laymon
Damn. There is something on nearly every page in this book that demands pause and attention. Laymon is so honest and vulnerable here. It's rather a cliche to call a memoir brave, but I imagine this was a scary book to write, and I thank him for sharing it with the world, truly. Everyone in America should read it. "This summer, it took one final conversation with Grandmama for me to understand that no one in our family and very few folk in this nation has any desire to reckon with the weight of where we've been. Which means no one in our family and very few folk in this nation wants to be free." 
H is for Hawk, by Helen Macdonald
Of grief and falconry. Come for the wonderstruck descriptions of goshawks, stay for the bizarre TH White history, and brutally stark depiction of grief and mental illness. "Here's a word. Bereavement. Or, Bereaved. Bereft. It's from the Old English bereafian, meaning 'to deprive of, take away, seize, rob'. Robbed. Seized. It happens to everyone. But you feel it alone. Shocking loss isn't to be shared, no matter how hard you try." 
Educated, by Tara Westover
Follow Westover as she processes a traumatic childhood on her Mormon fundamentalist family's compound, and her subsequent escape and awakening. "Everything I had worked for, all my years of study, had been to purchase for myself this one privilege: to see and experience more truths than those given to me by my father, and to use those truths to construct my own mind. I had come to believe that the ability to evaluate many ideas, many histories, many points of view, was at the heart of what it means to self-create. If I yielded now, I would lose more than an argument. I would lose custody of my own mind. This was the price I was being asked to pay, I understood that now. What my father wanted to cast from me wasn't a demon: it was me." 
Check back later for recent recommendations in poetry and graphic novels!