If you're feeling like some fiction, might I recommend. . .
Lincoln in the Bardo, by George Saunders
One of the most stunning, haunting, tender books I have ever read. Wowza. "Everything was real; inconceivably real, infinitely dear. These and all things started as nothing, latent within a vast energy-broth, but then we named them, and loved them, and, in this way, brought them forth. And now we must lose them." 

Manhattan Beach, by Jennifer Egan
A dreamy, meandering noir mystery set in World War II-era New York City. With the men away fighting, Anna becomes the Brooklyn Naval Yard's first female diver and gets tangled up with a prominent gangster while looking for her missing father. "Maintaining an appearance mattered as much—more—than what was underneath. The deeper things could come and go, but what broke the surface would be lodged in everyone's memory." 
The God of Small Things, by Arundhati Roy
Set in the late 1960s India, Small Things follows a pair of fraternal twins through their childhood, which is ultimately destroyed by a series of tragic events.  It's a meditation on how small things can have monumental consequences, and how India's caste system and "love laws" shape and devastate lives. "Perhaps it's true that things can change in a day. That a few dozen hours can affect the outcome of whole lifetimes. And that when they do, those few dozen hours, like the salvaged remains of a burned house—the charred clock, the singed photograph, the scorched furniture—must be resurrected from the ruins and examined. Preserved. Accounted for. Little events, ordinary things, smashed and reconstituted. Imbued with new meaning. Suddenly they become the bleached bones of a story." 

Tree of Smoke, by Denis Johnson
The ultimate fever-dream master tome about the CIA in Vietnam and what-the-hell-is-going-on and what is patriotism and what is right and how does anyone stay whole and . . . whoa. "The scene before her flattened, lost one of its dimensions, and the noise dribbled irrelevantly down its face. Something was coming. This moment, this very experience of it, seemed only the thinnest gauze. She sat in the audience thinking–someone here has cancer, someone has a broken heart, someone's soul is lost, someone feels naked and foreign, thinks they once knew the way but can't remember the way, feels stripped of armor and alone, there are people in this audience with broken bones, others whose bones will break sooner or later, people who've ruined their health, worshiped their own lives, spat on their dreams, turned their backs on their true beliefs, yes, yes, and all will be saved. All will be saved. All will be saved." 
Commonwealth, by Ann Patchett
1970s. Orange juice. Divorce. Remarriage. Mixed families. Irresponsible and overwhelmed adults. Bored and reckless children. Bees. Family drama. Reshuffling. Healing, even. Somehow this is the first Patchett book I've read, and wow, it is good. "Franny gave her sister a tired smile. 'Oh, my love,"'she said. 'What do the only children do?' 'We'll never have to know,' Caroline said." 

State of Wonder, by Ann Patchett
After reading Commonwealth I immediately went in for another Patchett. I loved this humid, bug-bitten novel of science, intrigue, and discovery in the vivid, choking Amazon. A rare book I'd recommend to pretty much any reader. "Never be so focused on what you are looking for that you overlook the thing you actually find." 
Exit West, by Mohsin Hamid
Nadia and Saeed are young lovers (of a kind) trapped in a besieged city when they hear whispers about a series of magical doors that open to distant lands. What follows is a real/surreal meditation on the psychology of displacement, exile, and loss, of relationships under strain, war and a future of never-ending refugee crises, and humanity's capacity for resilience. ". . . the apocalypse appeared to have arrived and yet it was not apocalyptic, which is to say that while the changes were jarring they were not the end, and people found things to do and ways to be and people to be with, and plausible desirable futures began to emerge, unimaginable previously, but not unimaginable now."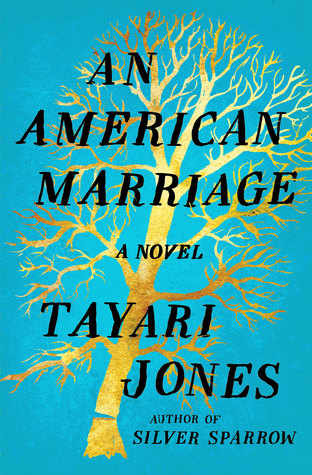 An American Marriage, by Tayari Jones
A marriage is upended when a young black man is wrongfully accused and convicted of a crime he did not commit. This is quiet, moving, and compassionate novel about yes, how institutional racism and mass incarceration ruin lives, but more than that it is a story about how a family weathers devastation, in part, through reinvention. "Sometimes it's exhausting for me to simply walk into the house. I try and calm myself, remember that I've lived alone before. Sleeping by myself didn't kill me then and will not kill me now. But this what loss has taught me of love. Our house isn't simply empty, our home has been emptied. Love makes a place in your life, it makes a place for itself in your bed. Invisibly, it makes a place in your body, rerouting all your blood vessels, throbbing right alongside your heart. When it's gone, nothing is whole again." 
The Power, by Naomi Alderman
What if one day something awoke in the bodies of women and girls, an electric reservoir that allowed them to deliver lethal jolts of lightning from their open palms? How fast and how hard would the entire world change? "It follows that there are two ways for the nature and use of human power to change. One is that an order might issue from the palace, a command unto the people saying "It is thus." But the other, the more certain, the more inevitable, is that those thousand thousand points of light should each send a new message. When the people change, the palace cannot hold." 
If you want to get fired up. . .
Bad Feminist, by Roxane Gay
I generally fall at the feet of Roxane Gay lately, especially after reading her book Hunger.  In this collection, she evokes personal experiences and pop culture to argue her thesis that a person can be a feminist while still enjoying or partaking in things that may be seen as going against "traditional feminist ideals." We don't all have to believe in the same feminism. Really it's a conversation about the expanding definition of the word, and why the hell shouldn't we all be proud to be called feminists. "We must stop pointing to the exceptions — these bright shining stars who transcend circumstance. We must look to how we can best support the least among us, not spend all our time blindly reverting and trying to mimic the greatest without demanding systemic change."
We Were Eight Years in Power, by Ta-Nehisi Coates
I'll pretty much read anything Coates writes, and this collection of his essays for The Atlantic hits its mark. I raged, I cussed, I cried, and I learned a ton about the civil rights movement, institutional racism, politics and policy, history, the Obamas, Trump voters, redlining, white supremacy, the industrial prison complex, Bill Cosby, and so much more. It's dense and vital. "An America that asks what it owes its most vulnerable citizens is improved and humane. An America that looks away is ignoring not just the sins of the past but the sins of the present and the certain sins of the future." 
They Can't Kill Us Until They Kill Us, by Hanif Abdurraqib
On the surface, this is an essay collection about pop culture, especially music. But really it's a wise, empathetic and encompassing missive on how we do and do not balance cynicism and optimism, anguish and hope, celebration and struggle within and outside of art. It's an excellent book to reach for when you have fifteen minutes to read something, and the rest of the day to think about it. And just look at that cover! "I have been thinking, then, about the value of optimism while cities burn, while people are fearing for their lives and the lives of their loved ones, while discourse is reduced to laughing through a chorus of anxiety. A woman in a Cape Cod diner the day after Christmas saw me eyeing the news and shaking my head. She told me that "things will get better," and I wasn't sure they would, but I nodded and said, "They surely can't get any worse," which is the lie that we all tell, the one that we want to believe, even as there are jaws opening before us."
If you're feeling Memoir-ish. . . 
Heart Berries, by Therese Marie Mailhot
"I felt breathless like every question was a step up a stairway." Here is a raw tour-de-force of a memoir. Mailhot began writing it from a mental institution where she checked herself in during a breakdown, and her accounts of poverty, addiction, mental illness and bipolar disorder, abuse, reservation life, motherhood, and a hurricane love affair are incendiary. "I couldn't distinguish the symptoms from my heart. It was polarizing to be told there was a diagnosis for the behaviors I felt justified in having." 
Priestdaddy, by Patricia Lockwood
Lockwood's singular shimmering, sparking ruminations on her bizarre childhood and life with her eccentric father — a Catholic priest (long story) who rarely wears pants, bathes with dish soap, shreds on electric guitars (badly) and loves shitty action movies — are by turns dreamy, dark, and hilarious. "I'm not interested in heaven unless my anger gets to go there too. I'm not interested in a happy eternity unless I get to spend an eternity on anger first. Let me speak for the meek and say that we don't want the earth if that's where all the bodies are buried. If we are resurrected at the end of the world, I want us to assemble with a military click, I want us to come together as an army against what happened to us here. I want us to bring down the enemy of our suffering once and for all, and I want us to loot the pockets, and I want us to take baths in the blood." 

A Guidebook to Relative Strangers, by Camille Dungy
In this collection of insightful, frank, and lyrical essays, poet Dungy explores race, motherhood, history, nature, and the writer's life from home and on the road as she travels across the country lecturing at universities, often with her infant daughter in her arms. Whether exploring Alaska's northernmost outpost, waiting in a Maine airport, limping down a trail in the Adirondacks, or walking through slave ports in Ghana, her essays are at once intimate and expansive, and always conversational. "When you belong, you can overlook the totality of otherness, the way that being other pervades every aspect of a person's life."