Looking for a good book to curl up with in the bright fall chill? Here is another installment of reading recommendations, and the best of what I've been reading the last few months…
1. The Snow Child, by Eowyn Ivey.
First, can we agree the author has the sweetest name ever? Okay then.
Though I read this in the summer, and it was marvelous, I have to say it would be truly something to read during the middle of winter. Hopefully by a wood-stove fire, with a dog at your feet that still smells of cold winter air. A tale that is at once serious and whimsical, hardscrabble and magical, featuring an enchanting little girl you'll wish was your daughter. Also, the cover art.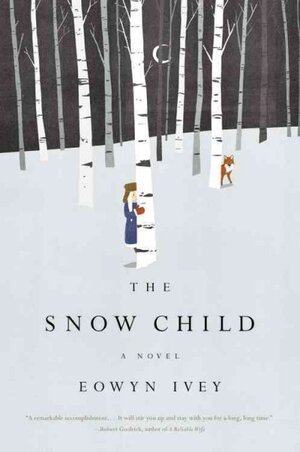 2. The Art of Fielding, by Chad Harbach.
About small-college baseball, philosophy, love, and finding and owning your passions. And appreciating the art in something done supremely well, be it short-stopping, reading, motivational speaking, or cafeteria cooking. And longing… but in a sort of stately, heady way more than a lush, fevered kind of way. Amazing that this was his first book, and no wonder it was on a lot of best of 2011 lists. The Times described it well in this review.
3. Let's Explore Diabetes with Owls, David Sedaris.
Yeah, I will happily read anything and everything Sedaris writes. It may not be as strong as Naked or Me Talk Pretty One Day, but it is absolutely worth reading if you find irreverent things more hilarious than horrifying. Like, uh, taxidermed Valentines. This essay, Understanding Owls, is one of my favorite in the mix, and will give you a good idea of what you're in for.
4-5. Breakfast of Champions, and Slaughterhouse-Five,
by The Kurt Vonnegut.
Occasionally I like to re-read books I read in high school or college, just to sort of reassess their impact. Or give them a second chance to impact me in the first place. I now appreciate (though still don't fully understand, could probably never fully understand) the true genius of Vonnegut better than I ever could have fifteen years ago. I'm not going to attempt to explain these books… you've probably read them already anyway… but will only say it is a rare mind that could pull off stories like these. Of the two I favor Slaughterhouse, although I have started calling our puppy Hazel [Wayne] "Hoobler". No, I don't know why.
6-7. The Ocean at the End of the Lane, and Anansi Boys,
by Neil Gaiman.
Ocean is Gaiman's newest book, something in between a novel and a novella. It's an achingly nostalgic narrative, bookended by a man remembering a terrifying and extraordinary event in his childhood, and told through his child-voice. Gaiman is a master of making magic nonchalant. His books (like the light-hearted Stardust, epic American Gods, and creepy Neverwhere) tend to feature the blurred lines between "normal" worlds and the (often fading) worlds still ruled by gods and monsters and magic, and the characters that cross back and forth between them. Anansi Boys follows the sons of the soft-shoeing, storytelling, trickster spider god Anansi, and is more funny and less heavy than typical Gaiman. I also recommend American Gods. A lot.
8. The Yiddish Policeman's Union, by Michael Chabon.
Somehow this is the first Chabon I have really tackled, though finishing Kavalier and Clay is now high on my list. Set in an alternative post-World War II reality in which loads of European Jews were re-located to settlements in Sitka, Alaska, this book is really a good ol' fashioned noir whodunit, starring a classic sad sack alcoholic detective, his ex-wife boss, half-Inuit cousin, and a bunch of radical Jews and chess players waiting for The Messiah. You'll also get wise to some colorful Yiddish slang.
9. City of Thieves, by David Benioff.
So I read this one a year or two ago, and not recently, but it always comes to my mind when people ask for recommendations. Benioff is one of the guys adapting Game of Thrones from page to screen. He is also extremely good-looking, not that has anything to do with his skills, but, yeah. This book is pretty great. It is sort of a semi-fictionalized story of his grandparents' experience during the siege of Leningrad, told in a spectacular plot. Two Russians, one a charismatic Adonis solider, the other a kind of wussy-boy son-of-a-poet civilian, get a wild assignment to cross back and forth through the siege lines and find a dozen eggs–during a famine–for a colonel's daughter's wedding cake. Despite the bleakness of wartime Russia, the story has a lot of humor and heart. It's enchanting. I listened to this one on tape and it is deftly narrated by Ron-freakin'-Perlman with a Russian accent. What more do you want?
10. Swamplandia!, by Karen Russell.
Okay, I am currently reading this one… but I don't have to be finished with it to recommend it, because Karen Russell is a wonder. I've actually met her before. During my time at Orion she was one of the judges for our annual book award. And in addition to being ridiculously talented (and so young yet it is almost annoying) and creative, she is also super nice and approachable. This book is set in a dilapidated, backwoods Floridian swamp-turned-theme park, crawling with dozens of gators all called Seth. The Bigtree family used to wrestle gators and dress up like Indians before things fell apart… now one sister is obsessed with ghosts, one is trying to hold on to her way of life, even as their brother befriends rivals, and their father disappears. It's about loss, and eras and time and people slipping through your fingers. It's a little Gothic and a little magical realism, and a lot fabulous.
That is all.